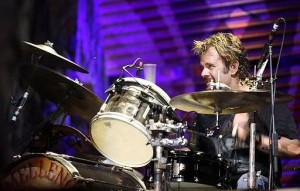 As I enter my 16th year as a member of the John Mellencamp band, my discography with him includes:
The Best That I Could Do
John Mellencamp
Rough Harvest
Cuttin' Heads
 Trouble No More
Words and Music
Freedom's Road
Life Death Love and Freedom
Life Death Love and Freedom Live
I was fortunate to play on two songs on my friend Ian Hunters' 'Rant' album, as well as some hand percussion on his 'Man Overboard' CD.
I was featured on Steve Earle's 'Jerusalem' album as well.
I first played with Steve Earle at Farm Aid 1991. Over the years I have been on stage and performed with John Fogerty, Jon Bon Jovi, Kid Rock, Sheryl Crow, Don Henley, Brian Wilson, Roger Waters and Joan Jett. I love rock and roll!!!