A heartfelt hello to all Dane Clark and Dane Clark Band fans out there!! Almost through the 2017 "Sad Clowns And Hillbillies" summer Mellencamp tour. Had a great time with Emmylou Harris and The Red Dirt Boys, and our great friend Carlene Carter.
Having a great time playing my new DW drums on the road. They built me a regular size kit and a smaller "cocktail" kit which sound like cannons and deliver that world class tone every night. I couldn't be happier playing them!
The Dane Clark Band is currently booking some shows for the fall, so stay tuned, we would love to see all the DCB fans again. It's been almost a year!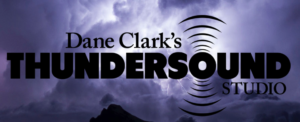 Thunder Sound Studio is finally a reality, up and running, and keeping me very busy. Recording and mixing projects for Jason Sturgeon from Nashville TN, Annette Wilson from Phoenix AZ, Butch Castetter from Palmetto FA, and The Boggy Branch Band from my hometown of Anderson. Also almost finished mixing Don Stevenson's "Buskin' In The Subway" album, which I produced and wrote a couple of songs for. It features the legendary Burton Cummings from The Guess Who on vocals and piano on the title track and a remake of "805" from the first Moby Grape record. All surviving members of the Grape appear on the record as well. We hope to have it totally finished this fall. Give me a shout if you want to make a record!